Kittens: At any given time, any of these may or may not be available for purchase. All are excellent choices which kittens will typically readily consume!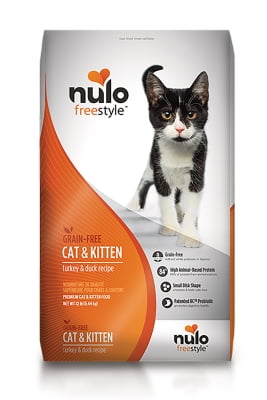 Nulo FreeStyle knows that our feline friends require nutrition that helps maintain lean muscles without excess calories. That's why their Freestyle Turkey & Duck Recipe Grain-Free Dry Cat & Kitten Food is formulated with 84% animal-based proteins and no white potatoes, grains, or tapioca, making it perfect for growing kittens to adult cats. Nulo's patented BC30 probiotic is a pure probiotic strain that supports your cat's gastrointestinal health. This delicious formula features small, disk-shaped pieces with a taste and texture cats love.
A generous kitten pack complete with: kibble/dry & wet/canned foods, vet issued health certificate, vet issued rabies certificate (if older than 12 weeks of age) health/immunization record, kitten tips and interaction toys are provided at the time of kitten pick up (Buyers need to bring a carrier & small litterbox filled about 2 inches with litter).
Nutrition is an extremely important aspect of caring for your Maine Coon and plays a large role in developing a "Super" quality adult European cat!
For our adult cats, we feed nulo freestyle. You can order online at www.chewy.com
We start our 4 week old kittens on nulo wet/canned food. At around 6 weeks, they begin to eat Royal Canin Kitten kibble. Buyers can order online at www.chewy.com
We feed wet food two-three times daily and leave dry kibble out for them 24/7. Keep in mind, if you put too much dry food out, it will become stale and kittens will turn their noses up at it. They want that fresh! fresh!
We also supplement kittens with a canned milk product (we share product information with Buyers, at the time of kitten pick up).
Email: mtnforkkittens@gmail.com Text: (580) 306-3571
Kelly Sparkman, Founder, Mountain Fork European Imports, LLC
Est. 2005
Website Updated 12-5-2021